Don't hesitate to contact us if you are interested in writing about or covering an EWM event.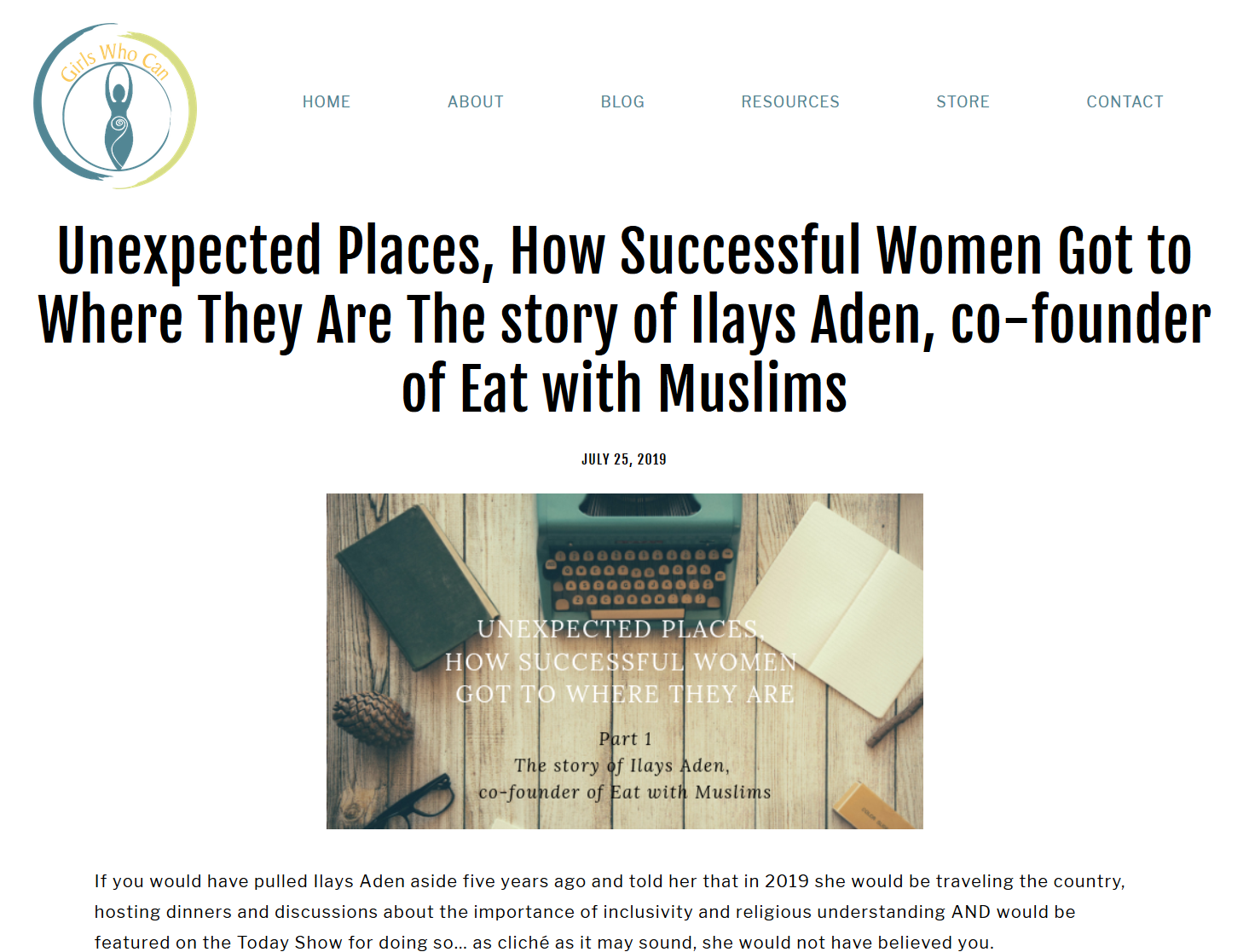 Unexpected Places, How Successful Women Got to Where They Are: The story of Ilays Aden, co-founder of Eat with Muslims
7/25/2019: Eat With Muslims stemmed from Ilays' and Fathia's desire to help change the stories that were being told about Muslims, African Americans and Latinos. They wanted to provide a simple platform for people from all backgrounds to break bread together and get to learn new things about one another. As their dinners became more frequent, they realized the need to talk more openly about Islam and religion in general.
Growing Up Muslim in Seattle
6/5/2019: As a Gen X teen growing up in L.A., religion was the furthest thing from Fathia Absie's mind. Since then, the Somali-American writer and filmmaker has lived and traveled all over the United States. "I don't remember ever feeling uneasy or uncomfortable," she says. But when she started to wear hijab, "everything changed," she says. "How people treat me now is so different."
An Interview with Eat With Muslims Co-Founder, Fathia Absie
5/16/2019: Eat With Muslims is a project devoted to educating people about Muslims by bringing people together over community meals. Recently, I had a chance to ask Eat With Muslims co-founder Fathia Absie how she got started, and she shared some of her fascinating story.
'Eat with Muslims' dinner held at Uber NYC headquarters
3/18/2019: It's all about breaking barriers over breaking bread. "Eat with Muslims" held its first dinner in New York City Monday night.
"It's an opportunity to get to know what Islam is and what Muslims believe," said Ilays Aden, co-founder of Eat with Muslims. "To eat and to enjoy each other's company while building community I think that's the best way to fight against Islamaphobia and this idea of being afraid of Muslims."
Aden is Somali-American. She felt compelled to change the perception of Muslims.
'Eat With Muslims': Why two Somali Americans are inviting people to dinner
2/21/2019: …"In the beginning, our network was very small. But there is no shortage of non-Muslims who want to connect with Muslims. We make it very cozy, very intimate, and we can talk about anything we want," Fathia told K5 News, adding, "we don't just eat together; people actually build bridges, connect and become friends, and then they go and talk to their family members and spread the word."…
Meet 2 Somali-Americans whose dinner party is educating communities
2/5/2019: Fathia Absie and Ilays Aden, the founders of Eat With Muslims, are trying to break down stereotypes and educate communities about what it means to be Muslim, all while sharing a meal.
12/21/2018: Peals of laughter and layers of conversation in Arabic, Somali, and English echoed up to the high ceilings of the Sullivan Community Center in Tukwila on Saturday November 17th, when 50 guests shared a meal in an event hosted by EatWithMuslims.org and Action Tukwila, a grassroots group that organizes community-building projects.
'Eat With Muslims' dinner seeks commonality
9/7/2018: Fathia Absie and Ilays Aden, two Seattle-based activists, have been leading dinner guests in dialogue about Islam since the 2016 presidential election. On Sept. 15, they are hosting a meal and a chat in Bend.
Food For Thought: Resilience Fund Supports Orgs That Serve Up Social Impact
8/10/2018: Food doesn't just nourish our bodies — it sustains our souls. And in the case of several social justice-focused organizations located in the Pacific Northwest, breaking bread with others is central to broader understanding, tolerance and progress in our society.
How One Dinner Party Group Is Breaking Barriers by Breaking Bread
6/22/18: There's no denying we live in divisive times. But as two Somali-American Muslim women are finding, one way to confront the country's ugliest problems is to start with an invitation.
One Seattle-based organization aims to break down barriers by breaking bread.
A FEW MINUTES AFTER introducing herself as "a Midwest farmer's daughter—I mean, really, I grew up on a farm in Iowa," a pale woman with speckled gray hair put down her fork and summoned her courage. "In all honesty," she said, "I haven't..." She paused. "Ever." Another pause. "Had." The next pause finally let loose an apologetic rush of words: "I've never had a Muslim friend."
Don't know Muslims? These Seattle women invite you to dinner
3/16/2017: Fathia Absie wants you to come to dinner. The Somali-American filmmaker and writer is co-founder of a Seattle-based project called Eat With Muslims, where Muslim families host dinners for people of all faiths and cultures.
'Eat With Muslims' Hopes to Clear Up Fears and Misconceptions, One Bite at a Time
9/24/2017: In the wake of last year's presidential election, Fathia Absie and Ilays Aden wanted to do something to change people's perceptions of Muslims. After all, a major plank of candidate Donald Trump's campaign had been a promise to ban Muslim immigrants like Absie and Aden from entering the United States
Sharing Food and Culture with Eat with Muslims
2/16/2017: Elaine Chu, philanthropic advisor at Seattle Foundation, shares her experience with Neighbor to Neighbor grantee organization Eat with Muslims.